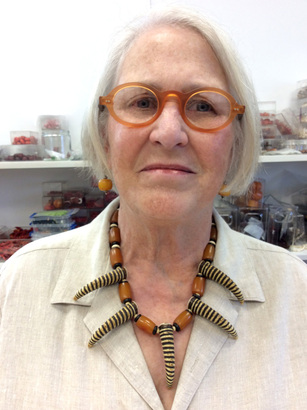 I was born in 1945 in Minnesota. There were artists, writers, teachers and musicians on both sides of my family. Self expression was encouraged. As a wee tot, I loved to dress up. I loved to play "make believe". By nature, I am still that energetic child, wanting to design and make clothes, then, design and make the jewelry to wear with the clothes and the hat and the bag. Then, I would design the house and gardens, the rooms, the kitchen, the furniture.
After Art History at UCLA, I enrolled in fashion design because I wanted to create costumes for Hollywood, but I fell in love with an East Coast man. So, I transferred to Boston to go to school.
I really did go to Woodstock.
Marriage, teaching and children ... a degree in interior design, I had found a new groove. To my skills in pattern drafting, sewing and knowing a lot about beautiful fabrics, I added architectural drafting, space planning and so much more.
Years were spent happily as a partner with my husband in our successful custom furniture and high end interior design business, but always in the background, I was squirreling away beads from around the world; fabric, ribbons, old buttons; and unique, antique bits and pieces all to make into fabulous somethings.
Then I took a jewelry-making course from my very talented daughter,
Stephanie Sersich,
and around that same time a friend recommended Haystack Mt. School of Crafts on Deer Isle in Maine. I thrived there and I was launched in a new direction.
These days, I have a great jewelry studio that's stocked with a zillion beads and all the supplies I need to create unusual jewelry. I can solder and saw and play with Precious Metal Clay. I love what I do and I hope you enjoy it, too!
Annie
---